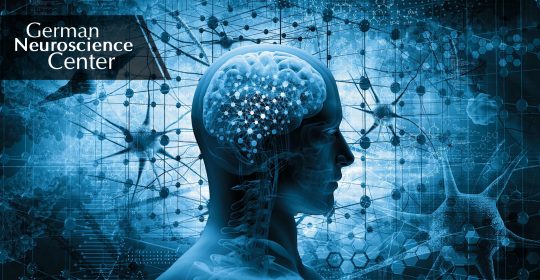 The German Neuroscience Center is a neurology hospital in Dubai that deals with neurological conditions on top of offering extensive services in psychiatry and psychology. Our Department of Neurology is especially exemplary of how high-standard healthcare services in the field of neurology should be. We value the services we present to our clients and our esteemed, comprehensive nature allows us to diagnose and find appropriate treatments for all neurological diseases.
The human nervous system is as intricate as it is important in the body, and only specialists in neurology are certified to conduct the diagnosis and treatment of all the accompanying diseases. Neurological diseases are serious, and anyone of them can make the human body functions deteriorate and breakdown if left unchecked and treated. Our Neuroscience Center is especially recognized, not for its location or use of high-grade equipment, but for its long list of neurology specialists who are experts in the field, and thus have a keen knowledge and skill-set for analyzing the brain and the spinal cord: the two main parts of the central nervous system where neurological diseases usually attack. These neurological disorders and diseases include:
Epilepsy
Headaches and Migraines
Vertigo and Dizziness
Multiple Sclerosis
Stroke
Dementia and Alzheimer's
Neuro-inflammatory and Neuro infective conditions
Brain tumors
Parkinson's
Cerebrovascular diseases
Neuromuscular Diseases
Movement disorders
Neuro-Immunological conditions
Our neurology hospital in Dubai has internationally recognized doctors in this field, and are professional enough to handle any of the above-mentioned conditions. In addition, each of our doctor's expertise allows them to cater for the needs of both adults and children alike, ideally able to use any number of diagnostic options favorable for each case, which include:
Ultrasonography tests
Evoked Potentials
Our team of specialists and doctors collaborated with the various high-grade equipment we use makes us the best neurology hospital in Dubai. Beyond the sphere of neurology, we also offer excellent healthcare services in both psychology and psychiatry. What that means is besides neurological diseases and disorders, we also conduct the diagnosis and treatment of mental disorders that may manifest into mood disturbance and abnormal behavior. When it comes to psychology, we also incorporate analysis to diagnose our patients who may have different psychological problems properly. Upon complete diagnosis, we integrate counselling sessions and other therapeutic treatments that have been tried and tested as appropriate mediation and healing practices.
Our specialists
In our center, we have professors and doctors in each of our core departments, which are neurology, psychiatry, psychology, and counselling. Specifically, in our neurology department, we have differently-specialized neurologists and senior consultants who have over 25 years of professional experience; in psychiatry, we also have senior consultants from Holland and Germany, and our various physicians have either had training and practice from Germany, Holland, Austria, or the USA. Overall, our team of doctors, psychologists, psychiatrists, neurologists, and counsellors have significant experience in their respective fields, some professors even having up to 36 years of professional expertise.
For more information on our health services, or if you wish to book an appointment with any of our expert doctors upon suspicion of a pre-existing condition, or just need a check-up, do not hesitate to contact us.
We are the best neurology hospital in Dubai.