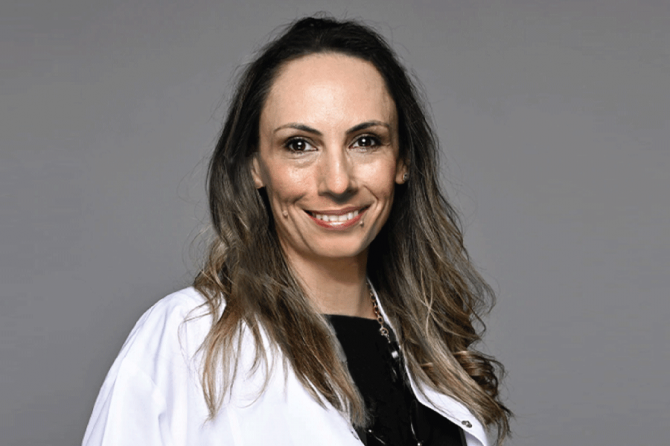 Profile

Dr. Ovgu Ozturkeri is one of Dubai's most experienced Neurologists, with a broad range of expertise and over 15 years of professional experience. Throughout her outstanding career, she gained expert knowledge in treating most neurological disorders, such as Headaches/Migraine, Backpain, Vertigo, Neuropathies, Multiple Sclerosis, Stroke, Parkinson's, Alzheimer's, Epilepsy and others.

Fluent in English, Turkish, and French, Dr. Ozturkeri's multicultural proficiency enhances her medical practice, enabling her to serve a broad range of patients.

A member of various distinguished associations, including the Izmir Medical Chamber, Turkish Neurological Society, and European Board of Neurology, Dr. Ozturkeri is consistently at the forefront of advancements in neurology.

Born in Izmir, Turkey, Dr. Ozturkeri pursued her medical education at Yeditepe University Medical School in Istanbul, earning her Doctor of Medicine degree in 2005. She subsequently specialized in Neurology at Baskent University, Ankara, completing it in 2011. Her dedication to continual learning and excellence led her to acquire numerous certifications, such as Turkish National Neurology Board Certification, European Neurology Board Certification, Clinical Neurophysiology EMG Training, EMDR Certification, and an Occupational Health Certificate.

Throughout her career, Dr. Ozturkeri has served in various prestigious hospitals, demonstrating adaptability and proficiency in diverse settings. She has gained valuable experience in institutions such as the Neuro Spinal Hospital in Dubai and Esrefpasa Hospital in Izmir, treating a wide range of conditions and performing specialized procedures like EEG and EMG.

In 2014, Baskent University Hospital recognized her extensive academic research by awarding her the title of Research Associate in their Neurology Department. Notably, Dr. Ozturkeri participated in an innovative joint study with the Ege University Psychiatry department titled "Standardization of Computerised Anatomical Techniques for Cognitive and Behavioral Sciences" (SoCAT).

Dr. Ovgu Ozturkeri has had the opportunity to share her explorations within the field of neurology through several publications. Her work has delved into a range of subjects, from understanding the impact of renal transplantation on cognitive functions to studying the effect of haemodialysis on the retina and optic nerve. In addition, she has had the privilege to study and report on the unusual manifestations of common neurological conditions in specific stroke cases, encephalopathy cases, and postoperative complications of bariatric surgery. These experiences have not only broadened her own understanding, but have also contributed to the collective knowledge within the field of neurology.

Her areas of special interest include:

Diagnosing and treating various types of headaches, including migraine, cluster, and other primary and secondary headache syndromes
Addressing conditions involving damage to the peripheral nerves, such as polyneuropathy, nerve entrapments, and radiculopathies
Diagnosing and treating neck and back pain
Utilizing Botox for conditions such as spasticity, migraines, blepharospasm, and hemifacial spasm
Stroke diagnosis and treatment
Alzheimer's disease and dementia care
Management of Multiple Sclerosis and other demyelinating disorders
Parkinson's disease treatment
Epilepsy management
Others

Dr. Ovgu Ozturkeri's commitment to her patients, coupled with her comprehensive expertise, makes her an in-demand neurologist, dedicated to achieving the best possible medical outcomes. Schedule an appointment with her today and take a significant step towards improving your neurological health.
© GNC, German Neuroscience Center Dubai (Neurology, Psychiatry, Psychology, Counseling, Dubai, UAE)