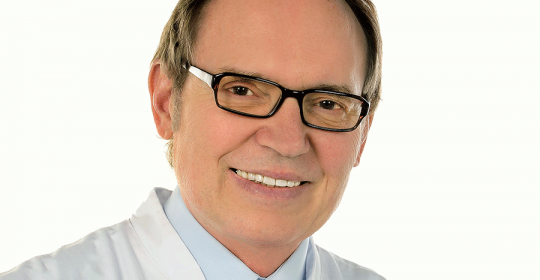 Neurologist (DHCC, DHA)
Professor of Neurology (German Board)
Neurologist (German Board)
Psychiatrist (German Board)
Former Head and Chairman of the Department of Neurology (University Hospital of Münster, Germany)
Profile

Prof. Ringelstein was Head and Chairman of the Department of Neurology at the University Hospital of Münster in Germany. The department ran approx. 80 beds and a neurological intensive care unit and a stroke unit as well. Further subdivisions covered neuromuscular disorders, sleep disorders   epileptic seizures and other paroxysmal fits, movement disorders, multiple sclerosis and related disorders, as well as dementia and cognitive impairment.

Prof. Ringelstein was very active in academic teaching and was awarded for these efforts several times. Prof. Ringelstein, is trained in epileptology, neuroradiology, neurogeriatrics, electroencephalography, electromyography, evoked potentials, and neurovascular and neuromuscular ultrasound.

In 1992 he received the Hugo Spatz Price of the German Neurological Society 1992 for his research on cerebrovascular disease. Prof. Ringelstein was or still is an active member of the editorial boards of scientific journals like Stroke, European Neurology, Cerebrovascular Diseases, Journal of Neuroimaging. He serves as a Reviewer for well-known journals like Stroke, Brain, Neurology, Annals of Neurology, and others. Prof. Ringelstein war trained in Mainz University, Aachen Medical Faculty and Bonn University Hospital. In 1987 he worked as a Research Fellow at Scripps Clinic and Research Foundation in La Jolla, CA, USA.

In 2006, Prof. Ringelstein received an Honorary Doctor title from the University of Debrecen, Hungary, for his intensive and fruitful scientific collaboration with this university hospital. He was elected Corresponding Member of the Austrian Stroke Society.

His particular areas of interest as a neurologist cover all clinical fields including stroke and its prevention, epilepsy, inflammatory peripheral and central nervous system disorders, headache and migraine, neurodegenerative disorders, movement disorders, polyneuropathies, and neuromuscular disorders. Prof. Ringelstein is also experienced in the use of Botulinum toxin for the treatment of dystonia's, severe spasticity, and various pain disorders.