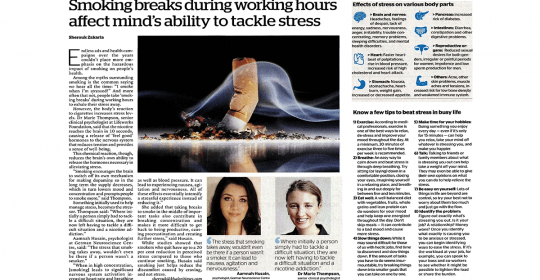 Khaleej Times | 9 Apr 2017 | Sherouk Zakaria
Endless ads and health campaigns over the years couldn't place more emphasis on the hazardous impact of smoking on people's health.
Among the myths surrounding smoking is the common saying we hear all the time: "I smoke when I'm stressed!" And more often than not, people take 'smoking breaks' during working hours to exhale their stress away.
[…]
Aamnah Husain, psychologist at German Neuroscience Centre,

said: "The stress that smoking takes away, wouldn't even be there if a person wasn't a smoker."

"When in high concentration, [smoking] leads to significant nervous system activation increasing heart rate and breathing as well as blood pressure. It can lead to experiencing nausea, agitation and nervousness. All of these effects essentially intensify a stressful experience instead of reducing it."

She added that taking breaks to smoke in the middle of important tasks also contribute in breaking concentration and makes it more difficult to get back to being productive, causing procrastination and creating further stress," said Husain.

While studies showed that smokers who quit have up to a 20 per cent reduction in perceived stress compared to those who continue smoking, Husain said smoking just helps reduce the discomfort caused by craving, and not stress.

The full Article was originally published in Khaleej Times
Counseling Psychologist Marriage and Family Therapist Domestic Violence Counselor Aamnah is a US trained and board certified counseling psychologist with over 8 years of experience working in different countries in a variety of settings. Moreover, she was trained in the U.S.