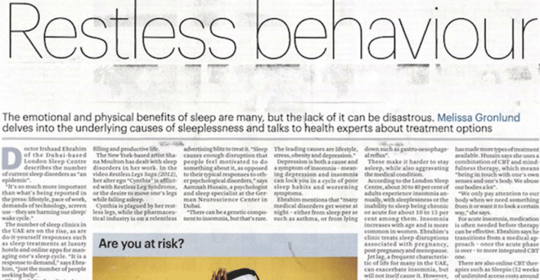 Restless behavior – The emotional and physical benefits of sleep are many, but the lack of it can be disastrous. Melissa Gronlund delves into the underlying causes of sleeplessness and talks to health experts about treatment options
"Sleep causes enough disruption that people feel motivated to do some-thing about it, as opposed to their typical responses to other psychological disorders," says Aamnah Husain, a psychologist and sleep specialist at the German Neuroscience Center in Dubai. There can be a genetic component to insomnia, but that's rare. Recent re-ports have focused on screen time as the culprit for poor sleeping. Smartphone and tablet screens emit blue light, a high-intensity energy source that stimulates people when they should be going to sleep."
[….]
"Sufferers of insomnia in the UAE have often complained that there are few treatment options in the region be-yond medication, but the rise in sleep disorder clinics has made more types of treatment available. Husain says she uses a combination of CBT and mindful-ness therapy, which means "being in touch with one's own senses and one's body. We abuse our bodies a lot".
Full original article was published in The National | Arts & Life
Counseling Psychologist Marriage and Family Therapist Domestic Violence Counselor Aamnah is a US trained and board certified counseling psychologist with over 8 years of experience working in different countries in a variety of settings. Moreover, she was trained in the U.S.