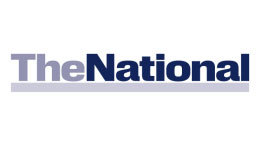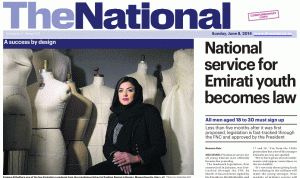 ABU DHABI // Lindsay Carroll, June 7, 2014 // The incidence of Alzheimer's disease may be underestimated because many families attribute signs of dementia to the natural ageing process.
Doctors believe that, as understanding grows, the prevalence of Alzheimer's and other memory-loss disorders could increase from 4,300 cases now to 32,000 by 2030. "I think the feeling of all neurologists here is that we're seeing only a small part of the Alzheimer's that's out there," said Dr Ajith Goonetilleke, consultant neurologist at Mafraq Hospital. "Especially with the kind of support systems we have in this country – especially Emiratis – they will just look after a person with a poor memory without trying to find the diagnosis for it," Dr Goonetilleke said. European doctors at a medical forum in Abu Dhabi last week said the number of cases could increase by 600 per cent by 2030, Al Ittihad, The National's Arabic- language sister newspaper, reported.
They attribute the projected growth to more diagnoses, an ageing population and the high prevalence of risk factors such as high blood pressure. Numbers are also expected to increase worldwide. The most common forms of dementia are Alzheimer's and vascular dementia. Alzheimer's accounts for more than half of cases, and is a neurological degenerative disease involving the gradual loss of nerve cells in the brain. The exact cause is not known, and likelihood of developing it increases with age.
Conservative views are that the number of those affected worldwide will at least triple by 2050, according to Dr Heike Jacobs, senior consultant for neurology at the German Neuroscience Centre in Dubai.
Vascular dementia involves decreased cognitive skills related to a lack of blood supply to the brain. Certain conditions such as high cholesterol, diabetes and heart disease can increase the risk for developing dementia. Only about 1 per cent of cases of Alzheimer's are genetic, said Dr Karoly Vadasdi, specialist neurologist at Canadian Specialist Hospital in Dubai.
Many people may not know they can reduce their risk of developing dementia in old age, Dr Jacobs said. "There is not enough awareness regarding the likelihood that every one of us has a high risk to be affected with Alzheimer's, and also not enough awareness that there are good chances to reduce this risk with … healthy living," she said. These can include maintaining a body weight within recommended guidelines, avoiding tobacco and excess alcohol, staying socially connected and exercising both the brain and the body, she said.
There may also be a link between serious head injuries and future risk of Alzheimer's, especially when trauma occurs repeatedly or involves loss of consciousness. "Protecting the brain by buckling the seat belt, wearing a helmet when participating in sports, and 'fall-proofing' the home is important," said Dr Jacobs.
These diseases are more extensive than forgetfulness that may come with ageing, said Dr Vadasdi. Mild forgetfulness is normal, but dementia involves memory loss and disorientation that progresses over time. Early diagnosis could be crucial to helping treat these forms of dementia through medication that slow the process of cognitive degeneration, said Dr Vadasdi. It can also can help families prepare. The disease can take a huge toll on families, he said. "I've seen a lot of families who are really distressed. What the family sees is that the patient is slowly, slowly deteriorating, even with treatment. The worst part is when the patient doesn't recognise the family members or their environment – their homes." Patients may also develop behavioural changes that can be difficult for their loved ones to cope with. "If it's recognised in the early stages, then there are eight to 10 years for the family to prepare," said Dr Vadasdi.