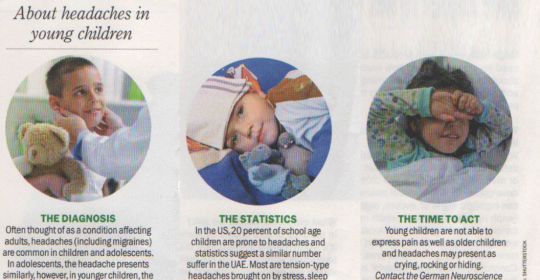 THE DIAGNOSIS
Often thought of as a condition affecting adults, headaches (including migraines) are common in children and adolescents. In adolescents, the headache presents similarly, however, in younger children, the diagnosis can be more difficult.
THE STATISTICS
In the US, 20 percent of school age children are prone to headaches and statistics suggest a similar number suffer in the UAE. Most are tension-type headaches brought on by stress, sleep problems, environmental or food triggers.
THE TIME TO ACT
Young children are notable to express pain as well as older children and headaches may present as crying, rocking or hiding.
Source: The original article was published in Time Out Dubai Kids
Pediatric or child neurology is the part of medicine taking care of younger patients suffering from neurological disorders. Neurological disorders are diseases of the human nerve system. The nerve system is divided in central nerve system (brain and spine) and peripheral nerve system (nerves of the head, trunk and limbs).