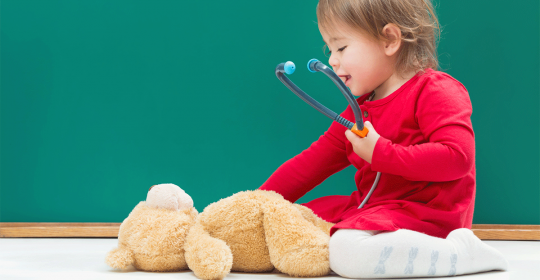 Pediatric or child neurology is the part of medicine taking care of younger patients suffering from neurological disorders. Neurological disorders are diseases of the human nerve system. The nerve system is divided in central nerve system (brain and spine) and peripheral nerve system (nerves of the head, trunk and limbs).
Most neurological diseases can be found in children and in adults. However, pediatric or child neurology differs from adult neurology since in some cases children may suffer from different diseases than adults. Moreover, the same diseases may present themselves in different ways in children compared to adults.
A good example is headache. In older children and adolescents, the headache presentation is quite similar to adults. In younger children the diagnosis might be more difficult. Young children are not able to express pain as well as older children. Therefore, headaches may present themselves as crying, rocking, or hiding. Moreover, young children are able to ignore the pain through play.
Chronic headaches may present themselves as anxiety, depression, eating disorders, sleeping disorders or behavior problems.
Children may suffer from a wide range of neurological disorders. He a short overview:
Neurological disorders in Children and Adolescents
• Headaches, including migraines (Appr 20% of children aged 4 to 18 years report having had notable recurrent headaches (including migraine) in the past 12 months)
• Seizure disorders, including seizures in newborns, febrile convulsions, and epilepsy (40% to 50%)
• Head injuries and their complications
• Brain tumors
• Movement disorders, muscular weakness, including cerebral palsy, muscular dystrophy, and nerve muscle disorders
• Behavioral disorders, including attention-deficit/hyperactivity disorder (adhd), school failure, autism, and sleep problems
• Developmental disorders, including delayed speech, learning disabilities, motor milestones, and coordination issues 20%
• Intellectual disability (formerly called mental retardation)
• Autism spectrum disorders
• Hydrocephalus or excess fluid build-up in the brain
• Genetic diseases of the nervous system
• Congenital metabolic abnormalities that affect the nervous system
• Congenital birth defects affecting the brain and spinal cord such as spina bifida
• Sleep disorders
Diagnostic procedures in pediatric neurology
• EEG, Electroencephalogram
• NCV, Nerve Conducting Velocity
• EMG, Electromyography
• Evoked Potentials
• Ultrasounds of the blood vessels and nerves
• Polysomnography, sleep study
• Radiology Services
• Laboratory Services
Dr. Van der Kamp is a certified neurologist and neurophysiologist, who graduated from the University Hospital of Leiden, the Netherlands. His promotion thesis in 1994 focused on magnetic brain stimulation. He spent a year as a fellow in London with Prof. C.D. Marsden.