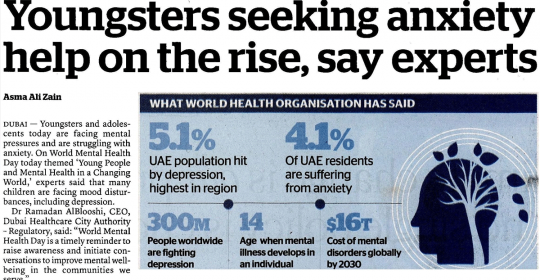 Youngsters and adolescents today are facing mental pressures and are struggling with anxiety. On World Mental Health Day today themed 'Young People and Mental Health in a Changing World,' experts said that many children are facing mood disturbances, including depression. […]
Causes
According to Aamnah Husain, marriage and family therapist at German Neuroscience Centre, Dubai, children and adolescents often struggle with anxiety.
"It could be social phobia, which is to worry about other people's perception and judgement and fears about performance or panic attacks or more general anxiety," she said.
"At the centre, many children come in with mood disturbances like depression. Other common disorders are Attention Deficit Hyperactivity Disorder (ADHD), Austism Spectrum Disorder and for young teens and adolescents eating disorders are also prevalent," she said.
"All of these issues are affected by hereditary and biological factors, but environmental and psychological influences play a big role as well," added Aamnah.
"The beliefs they hold about themselves and the world, the messages they get from people, places and organisations around them, the societal pressures they face, the level of support they have and the resources available to them, can all contribute to the development and treatment of their mental health. A history of trauma is also a big risk factor."
Regional rate
According to the World Health Organisation (WHO), the UAE has the highest regional level of depression, at 5.1 per cent of the population. The country also ranks highly for anxiety with 4.1 per cent of people admitting to a problem.
In 2015, there were 444,016 cases of depression reported at primary health centres, while 354,199 people sought help for anxiety. […]
Key facts
• One in six people are aged 10-19 years.
• Mental health conditions account for 16 per cent of the global burden of disease and injury in people aged 10-19 years
• Half of all mental health conditions start by 14 years of age but most cases are undetected and untreated
• Globally, depression is one of the leading causes of illness and disability among adolescents
• Suicide is the third leading cause of death in 15-19 year olds
• The consequences of not addressing adolescent mental health conditions extend to adulthood, impairing both physical and mental health and limiting opportunities to lead fulfilling lives as adults
Support system is a must
It doesn't surprise when doctors highlight the issue of anxiety among children in the UAE. Lack of usual support network of family and friends could be a reason. Even as most expatriates call the UAE their second home, not many have a healthy social network that can help unwind. Mental health issues are more of a symptom than a disease and can be tackled with professional help. Spending more time with children, too, can help. Parents should be more mindful of this.
The original full article was published in Khaleej Times