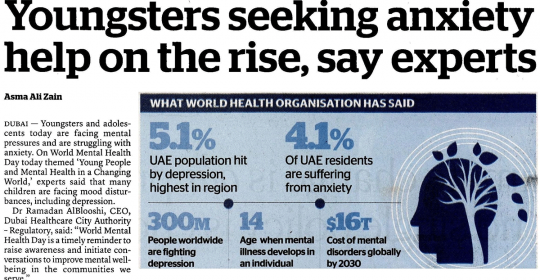 Youngsters and adolescents today are facing mental pressures and are struggling with anxiety. On World Mental Health Day today themed 'Young People and Mental Health in a Changing World,' experts said that many children are facing mood disturbances, including depression.
Dr Ramadan AlBlooshi, CEO, Dubai Healthcare City Authority – Regulatory, said: "World Mental Health Day is a timely reminder to raise awareness and initiate conversations to improve mental wellbeing in the communities we serve."
According to Aamnah Husain, marriage and family therapist at German Neuroscience Centre, Dubai, children and adolescents often struggle with anxiety.
"It could be social phobia, which is to worry about other people's perception and judgement and fears about performance or panic attacks or more general anxiety," she said.
"At the centre, many children come in with mood disturbances like depression. Other common disorders are Attention Deficit Hyperactivity Disorder (ADHD), Austism Spectrum Disorder and for young teens and adolescents eating disorders are also prevalent," she said.
"All of these issues are affected by hereditary and biological factors but environmental and psychological influences play a big role as well," added Aamnah.
"The beliefs they hold about themselves and the world, the messages they get from people, places and organisations around them, the societal pressures they face, the level of support they have and the resources available to them, can all contribute to the development and treatment of their mental health. A history of trauma is also a big risk factor." […]
The full original article was published in Khaleej Times