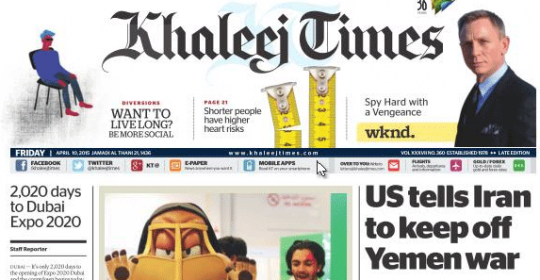 Khaleej Times, Asma Ali Zain (Deputy Chief Reporter) / 11 April 2015
For World Parkinson's Day, German Neuroscience Centre, Dubai Health Authority, Rashid Hospital and the Parkinson's Support Dubai are conducting an education and awareness campaign at the Sofitel Downtown Dubai from 12 noon to 5pm
Parkinson's disease is a disorder of the nervous system caused due to the degeneration or loss of certain brain cells.
Dubai — Approximately 500 patients with Parkinson's disease are seeking treatment across Dubai Health Authority's (DHA) health facilities, according to doctors discussing the issue on the authority's weekly Twitter clinic held on Thursday.The DHA #smart_clinic was held via its Twitter page (DHA_Dubai) to raise awareness about Parkinson's disease ahead of World Parkinson's Day which falls on April 11 this year.Information was disseminated to more than 67,000 people who follow the DHA's page on Twitter.Parkinson's disease is a disorder of the nervous system caused due to the degeneration or loss of certain brain cells. It is the second most common neurodegenerative disease after Alzheimer's. According to Parkinson's Disease Foundation, an estimated seven to 10 million people worldwide are living with Parkinson's disease. Men are one and a half times more likely to have Parkinson's than women.
The disease mainly affects people in the age group of 40 to 60 years.Dr Abubaker Al Madani, head of neurology department at Rashid Hospital, said: "Although Parkinson's disease cannot be cured, medications may markedly improve patient's symptoms. The disease develops slowly and is a degenerative disease, therefore early detection is vital to slow its progression and ensure patients can have the best quality of life possible."Al Madani added: "The disease develops gradually, sometimes starting with a barely noticeable tremor. In addition to involuntary tremors or shaking, it also causes stiffness and slowing of movement, walking difficulties, imbalance, expressionless face, softness in speech, anxiety, depression and sleep disturbance."Dr Yasmin Kamal, senior specialist neurologist at Rashid Hospital said primary causes include genetic predisposition and possibly environmental factors. Secondary causes include head trauma or injuries, strokes, brain infections, acute toxicity, and endocrinal and metabolic diseases including liver and kidney disease. "People should take all necessary precautions to protect themselves from head trauma including using protective gear such as helmets when riding a cycle or motorbike and when playing certain sports.
Patients with hypertension, diabetes, obesity and elevated blood lipid levels should take precautions so that their risk factors do not trigger a stroke and patients with endocrine, liver or kidney disease should follow-up their condition with their medical practitioner."Kamal said: "To treat the disease, medications including oral and skin patches are prescribed. In certain cases surgery may be required. Furthermore, symptoms of the disease such as depression, sleep disorders, urinary disturbances, constipation and so on  need to treated with medication.Other therapies such as meditation, distressing mechanisms, exercise, yoga, occupational therapy and speech therapy are important to minimise the symptoms of the disease, improve the course of the disease and lead to better quality of life.
In addition, a healthy diet that is modified according to the medication prescribed is required."Kamal highlighted that family support is vital to help such patients but at the same time caregivers need support, as well. At a later stage the neurology department at Rashid Hospital will form a Parkinson's support group to help patients and their families cope with the disease.