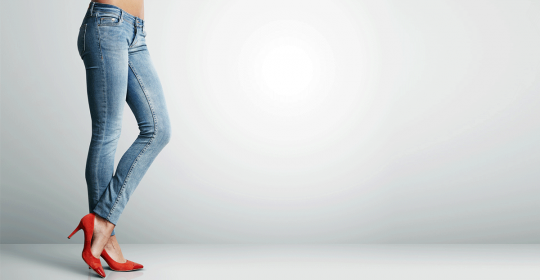 New research finds that fashion forward Brits are putting style ahead of their health.
Consumer research from the British Chiropractic Association (BCA) has found that three quarters (73%) of women have suffered with back pain and their wardrobe could be a major cause of the discomfort.
The BCA found that over a quarter (28%) of women are aware clothing effects their back or neck pain and posture, yet are not influenced by this in their clothing choices. For example, wearing skinny jeans and backless shoes which can aggravate pain. One third of women (33%) were completely unaware that their choice of clothing could have an impact on their back or neck health.
BCA chiropractor, Tim Hutchful, comments on the findings: "I am always surprised at how many of my patients are unaware that their clothing and accessories can affect their back health and their posture and, equally, how many decide their outfit-choice outweighs their pain.
"Some of the most popular items of clothing can have a hidden health impact. While overloaded and heavy handbags are a common culprit, some more unexpected items like skinny jeans can also wreak havoc – they restrict free movement in areas such as the hips and knees, affecting the way we hold our bodies. New trends such as asymmetric hemlines, oversized sleeves and hoods and heavy jewellery can also create problems."
The findings revealed the Top 5* clothing culprits:
1.    Skinny jeans
2.    Oversized bags and those worn on one side of the body
3.    Coats with large fluffy hoods
4.    High heeled shoes
5.    Backless shoes, e.g. mules
These statistics mirror trends seen on the fashion week runways, where mules and heavy jewellery featured prominently. Twenty per cent of women responding in the research said they choose to wear shoes, such as mules, which are without support at the back of the foot which will increase strain on the legs and lower back. Similarly, 10% of women are sporting heavy jewellery, such as statement necklaces, which increase pressure on the neck and can wreak havoc with posture.
Tim adds: "Whilst we are certainly not saying stop wearing your favourite clothes altogether like most things in life, moderation is best and there are easy ways you can reduce the impact on your posture and overall health. For example, try and limit the number of times you wear skinny jeans or high heels every week so you're giving your body a break, or try investing in a backpack for days when you have a lot to carry around."
To help you keep fashion forward without your posture paying the price, the British Chiropractic Association provides their top tips for staying stylish and back pain free:
•    Variation is key: Wearing similar pieces of clothing every day could trigger back pain, by regularly restricting certain parts of your body from moving freely. Shift the pressure on these areas by varying the styles of clothes you wear.
•    Keep it loose: Tighter clothes restrict your body from moving freely so looser clothing, such as baggy trousers, maxi skirts, or straight leg jeans, are a good choice.
•    Put the bag down: Heavy handbags are a particularly common cause of back pain in women. Pay attention to the bag you carry around and regularly check for and empty your bag of unnecessary items. Backpacks are the best design for your posture as they distribute weight evenly across both shoulders, so it's great that these are back in style. Avoid bags that must be carried in the crook of your arm, as the weight of these held away from your body pulls one shoulder lower than the other, twisting your neck and spine. If your bag has one strap, alternate the shoulder you carry it on or, if it has a long strap, wear it across the body.
•    Put your best foot forward: High heels force you to hold your body in a manner which promotes tension in your spine so, if you wear high heels, counteract any potential damage by wearing trainers or shoes with a lower heel from time to time and try to choose a wedge or chunkier heel over a stiletto.
•    Get the right support: Clothes are important but what you wear underneath can also affect your posture. Bras need to fit properly so that your shoulders don't take all the strain. When shopping for bras, look for one which has an underband that is neither too tight nor too loose. Ensure that the centre-fold fastener sits close to your body and that the straps are not too tight on your shoulders. Getting a fitting at a shop (many offer this service) is the best way to get a good fit.
Give care of your posture a daily focus and try Straighten Up UK, a programme of 3-minute exercises, designed to help improve posture and prevent back pain by promoting balance, strength and flexibility in the spine.
Research was carried out between 14/02/2017 and 20/02/2017 on behalf of the British Chiropractic Association
The article was originally published by the British Chiropractic Association.
Back pain and Neck Pain are rather symptoms than diseases. Meaning there can be various causes for your back pain or neck pain. Therefore the most important step is to find the right diagnosis by appropriate examinations. Only then the treatment can follow. To overlook serious underlying diseases and start treatment could have fatal consequences.