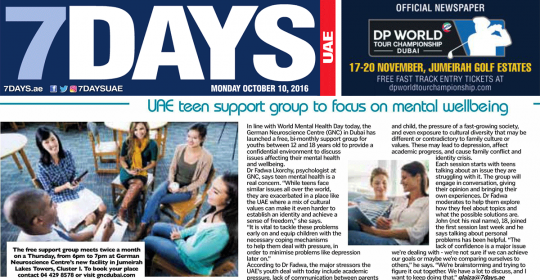 In line with World Mental Health Day, the German Neuroscience Centre (GNC) in Dubai has launched a free, bi-monthly support group for youths between 12 and 18 years old to provide a confidential environment to discuss issues affecting their mental health and wellbeing.
Dr Fadwa Lkorchy, psychologist at GNC, says teen mental health is a real concern.
"While teens face similar issues all over the world, they are exacerbated in a place like the UAE where a mix of cultural values can make it even harder to establish an identity and achieve a sense of freedom"
Dr. Fadwa says: "It is vital to tackle these problems early on and equip children with the necessary coping mechanisms to help them deal with pressure, in order to minimize problems like depression later on." According to Dr Fadwa, the major stressors the UAE's youth deal with today include academic pressure, lack of communication between parents
The free support group meets twice a month on a Thursday, from 6pm to 7pm at German Neuroscience Centre's new facility in Jumeirah Lakes Towers, Cluster I. To book your place contact 04 429 8578.
Source: The article was originally published by 7days | 10.10.2016 | Dubai
Psychologist & Developmental Psychologist Personality Dimensions Trainer Neuro-linguistic programming (NLP) coach Licensed hypnosis therapist Professional trainer Member of the American Psychological Association Member of the Arab Psychological Association Fadwa Lkorchy is an American board certified psychologist living and working in Dubai.