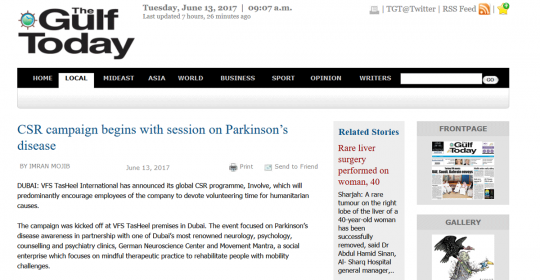 Almost 80 Parkinson's patients and caregivers from the UAE supported this year's Parkinson's event. This is way more than we ever expected and we are happy to see that the community is continuing to grow.
Parkinson's disease is a life changing neurological condition, which is widely undiagnosed, often misunderstood and not accurately treated. Movement Mantra, The German Neuroscience Center and VFS TasHeel International teamed up to change this.
The free of charge event was intended to raise awareness for Parkinson's disease. Patients and caregivers could meet, exchange experience and encourage each other. Movement Mantra provided practical exercises and knowledge about the importance of movements in Parkinson's disease. Two Parkinson's experts from the German Neuroscience Center – a neurologist and a psychologist – were present to answer all questions of patients and caregivers about the disease. VFS TasHeel International sponsored the event and provided the platform in line with their new global CSR programme.
Here a snippet from today's Gulf Today coverage:
"The campaign was kicked off at VFS TasHeel premises in Dubai. The event focused on Parkinson's disease awareness in partnership with one of Dubai's most renowned neurology, psychology, counselling and psychiatry clinics, German Neuroscience Center and Movement Mantra, a social enterprise which focuses on mindful therapeutic practice to rehabilitate people with mobility challenges. […]
The awareness session was supported by neurologist Dr. Heike Jacobs and psychologist Aamnah Husain of German Neuroscience Centre, who participated in an interactive talk session addressing the physiological and psychological challenges faced by people with Parkinson's disease.
"Our goal is to work with patients to offer a holistic approach, incorporating both psychological support and medical treatment. Psychological support is very important for Parkinson's sufferers as depression has been shown to be a significant problem, affecting up to 60 per cent of people with the disease. Living with Parkinson's can be difficult to cope with but depression is also part of the disease itself, resulting from changes to the brain chemistry. Another vital aspect is making sure that caregivers receive the attention and support they need in order to help them deal with looking after a loved one, which can have a big impact on their own emotional well-being." said Dr. Aamnah Husain, Psychologist at German Neuroscience Centre."
The original full article was published in Gulf Today, IMRAN MOJIB, June 13, 2017. Read it here