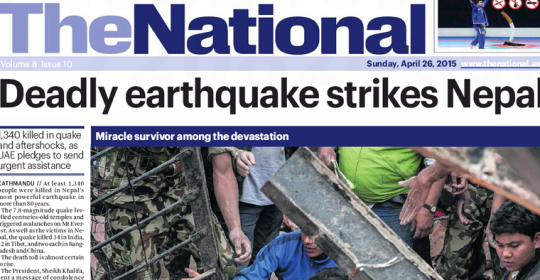 ABU DHABI, The National, Jennifer Bell,
Experts are calling for better strategies to change outdated attitudes to mental health in the workplace and provide a better forum for employees to safely disclose any medical issue.
Jared Alden, a Dubai-based psychotherapist, said employers often have a "shoppers mindset" when looking at their employees. "They might think of their workers as easily replaced and thus why bother with an employee that might need accommodation," said Mr Alden, of the German Neuroscience Centre in Dubai Healthcare City. "Most people think that depression and anxiety are very hard to treat when the truth is most things in mental health can be treated very effectively. "Sadly there are still organisations that just focus on measuring the money and don't see productivity as a valuable measure."
Dr Deema Sihweil, a private psychologist at the Carbone Clinic in Dubai, has come across many patients who fear telling their employers about a mental illness which can often wrongly be associated to the "weak" or "powerless". "It is an extremely common occurrence for patients to seek psychological services without informing his or her employer in fear of being ostracised, held back from promotions or even fired," she said. This is often the case when the employer has a company sponsored health insurance plan and the employee is required to pass any documentation through the human resources department for approval, she said. "Depending on the company, many employees feel confident of their rights, including the right to confidentiality and zero discrimination based on disability," said Dr Sihweil. "Unfortunately, however, in many more companies these internal policies and conditions for submitting health records for purposes of insurance reimbursements are not made clear.  "This uncertainty of who and how any medical information will be handled is a great deterrent for many consumers of medical or psychological treatment, in fear that their job standing will be jeopardised."
Dr Yousef Allaban, medical director at American Centre for Psychiatry and Neurology, said many employers have a misunderstanding about mental illness so disclosing any such health issue may hamper a person's career. Dr Justin Thomas, an associate professor of psychology at Zayed University, discourages workers from disclosing any such illness to employers unless their mental health poses a risk to themselves or others. However Dr Sihweil said the problem of not disclosing such an illness mean workers can inadvertently hamper their own career. "Repetitive tardiness, loss of concentration, poor time management, uncontrollable mood swings, physical pain or relationship discord with colleagues may all be signs of psychological distress or problems in one's personal life.  "Anything from sleep disturbances, to substance abuse or dependence can wreak havoc on one's ability to perform on the job."
The World Health Organisation (WHO) estimates in many developed countries, 35 per cent to 45 per cent of absenteeism from work is due to mental health problems and even if an employee does not take sick leave, mental health problems can result in a substantial reduction in the usual level of activity and performance. Dr Sihweil said the onus is the employee to disclose any mental health disorder. However for those in high-risk jobs, such as those working in hospitals, aviation, offshore oil rigs and construction, for example, mental health evaluations are critical to safeguard society at large. "Human error is still a major cause of poor productivity and is largely based on health factors." Companies should consider offering employee assistance programmes that provide employees with mental health benefits as well as ensuring there is a confidential process for employees who want to report any such medical problems, she said.
Mr Alden said such strategies this would foster an open and productive environment. "The very fact the workplace would promote such things would go a long way in creating acceptance," he said.