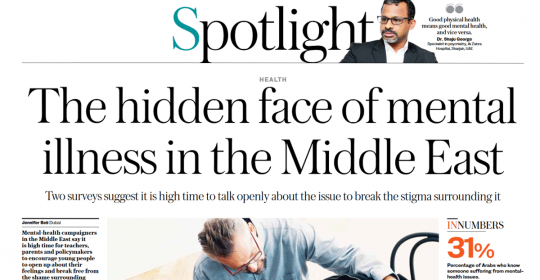 Mental-health campaigners in the Middle East say it is high time for teachers, parents and policymakers to encourage young people to open up about their feelings and break free from the shame surrounding discussion of psychological disorders.
The warning comes after two separate surveys highlighted the scale of suffering among the region's 200 million Arab youth due to depression, anxiety and addiction.
The Arab Youth Survey 2019, released earlier this month by the Dubai-based communications company Asda'a BCW, showed mental illness to be a widespread concern among young people in the Middle East and North Africa (MENA). And a recent YouGov poll conducted in the UAE pointed to the existence of a stigma around mental illness, with fewer than half of respondents saying they would seek professional help if they were suffering from a psychological disorder.
"The Arab population is plagued by issues that are no different from any other population in the world: Depression, anxiety, eating disorders, addiction, suicide, self-mutilation, post-traumatic disorders, mood disorders and so on," Fadwa Lkorchy, a psychologist at the Dubai-based German Neuroscience Center, told Arab News. "The difference now is that the Arab world is willing to admit the problem."
The Arab Youth Survey, which explored attitudes among Arab youth in 15 countries and territories in MENA, found that one-third of them knew someone suffering from a mental disorder such as anxiety and depression.
Half of the respondents — Arab men and women aged 18 to 24 — said there was a stigma attached to seeking medical care.
Youth in the Gulf Cooperation Council (GCC) countries are most likely to be accepting of mental illness, according to the Arab Youth Survey, with 62 percent saying it was a normal thing.
GCC youth identified personal relationships as the biggest source of stress, followed closely by academic factors.
"The young generations are more exposed than the older ones to what's going on around the world," said Lkorchy.
"They have higher expectations but not the same resilience, which may result in feelings of inadequacy in matters of education, career and lifestyle," she added.
"Now is the right time to talk about mental illness, to help people deal with daily challenges and develop skills to improve their mental wellbeing."
Lkorchy said the polls' findings point to at least two things: Young people should not delay seeking medical care for underlying psychiatric disorders, and medical professionals need to provide better and a wider range of platforms for young people to discuss mental-health issues or receive treatment. "The mental-health statistics aren't surprising. We've seen for decades the neglect of mental health and focus solely on physical health," she added. "The new generations, with help from social media, are more open and willing to seek help." […]
The full original article was published in Arab News.