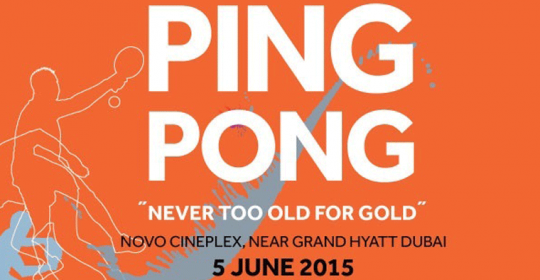 Hosted by 4get-me-not Alzheimer's, the event comes as part of the organisation's latest 'Spin & Drive for Brain Health' campaign which seeks to promote the cognitive benefits of exercise
Do you love to play Table Tennis? According to a growing body of research, bouncing that little white ball back and forth does more than just get your blood pumping – it may also help to keep Alzheimer's at bay. Touted as the best sport for our brains, table tennis is now being used in sports therapy sessions around the world for Alzheimer's patients thanks to its stimulating benefits.
The non-profit organisation 4get-me-not Alzheimer's, in collaboration with Novo Cinema and German Neuroscience Center, will host the Spin & Drive for Brain Health event on 5th June 2015 between 10am – 7pm at the Novo Cineplex Cinema beside Grand Hyatt Dubai. The corporate and social responsibility initiative is the first, and only, table tennis tournament dedicated to raise awareness of Alzheimer's in the United Arab Emirates (UAE).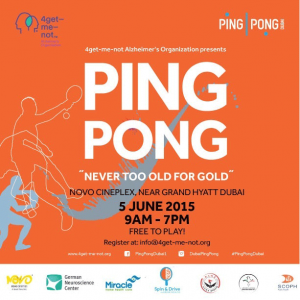 Alzheimer's disease is a global health concern and most commonly associated with elderly people however, five per cent of people with the disease suffer from early onset Alzheimer's which can affect patients in their 40s and 50s. Alzheimer's is the most common form of dementia and a neurological disorder, which causes deterioration of memory, loss of concentration and diminished judgement.
Whilst there is still no known cure, research has revealed that boosting circulation through exercise may help to slow cognitive decline, as well as reduce the risk of Alzheimer's.
Table Tennis is one of the world's most played sport and is a fantastic low-to-medium impact exercise that requires the brain to be constantly engaged. Players are required to calculate the opponent's next move and keep a watchful eye on the ball, which necessitates spatial awareness, hand-eye coordination and peripheral vision.
Players of all ages – especially the young at heart – are invited to take part in the tournament to help raise awareness of the condition and for a chance to win fantastic prizes. The tournament will be followed by a screening of the 2012 documentary film 'Ping Pong Never Too Old for Gold' which follows a group of eight pensioners from around the world as they train for and compete in the over 80's table tennis championships in Inner Mongolia.
To register for the tournament, email us at info@4get-me-not.org or visit www.4get-me-not.org for more information.