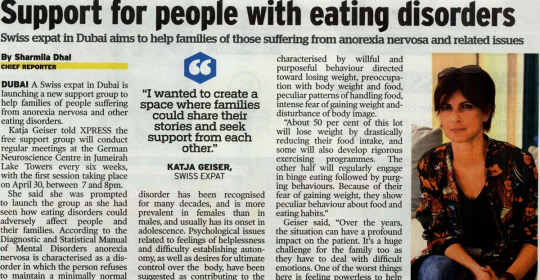 A Swiss expat in Dubai is launching a new support group to help families of people suffering from anorexia nervosa and other eating disorders.
Katja Geiser told XPRESS the free support group will conduct regular meetings at the German Neuroscience Centre in Jumeirah Lake Towers every six weeks, with the first session taking place on April 30, between 7 and 8pm.
She said she was prompted to launch the group as she had seen how eating disorders could adversely affect people and their families. According to the Diagnostic and Statistical Manual of Mental Disorders anorexia nervosa is characterised as a disorder in which the person refuses to maintain a minimally normal weight, intensely fears gaining weight, and significantly misinterprets his/her body and shape.
Fabian Sarloos, clinical and health psychologist at the German Neuroscience Centre, said, "The disorder has been recognised for many decades, and is more prevalent in females than in males, and usually has its onset in adolescence. Psychological issues related to feelings of helplessness and difficulty establishing autonomy, as well as desires for ultimate control over the body, have been suggested as contributing to the development of the disorder. Patients with anorexia nervosa frequently find support for their practices in society's emphasis on thinness and exercise."
He said anorexia nervosa is characterised by willful and purposeful behaviour directed toward losing weight, preoccupation with body weight and food, peculiar patterns of handling food, intense fear of gaining weight and disturbance of body image.
"About 50 per cent of this lot will lose weight by drastically reducing their food intake, and some will also develop rigorous exercising programmes. The other half will regularly engage in binge eating followed by purging behaviours. Because of their fear of gaining weight, they show peculiar behaviour about food and eating habits."
"One of the worst things here is feeling powerless to help someone you love and acknowledging that the person suffering needs to help themselves"
Geiser said, "Over the years, the situation can have a profound impact on the patient. It's a huge challenge for the family too as they have to deal with difficult emotions. One of the worst things here is feeling powerless to help someone you love and acknowledging that the person suffering needs to help themselves. So, I wanted to create a space where families could share their stories and seek support from each other."
The article was originally published April 11, 2018 Gulf News XPRESS