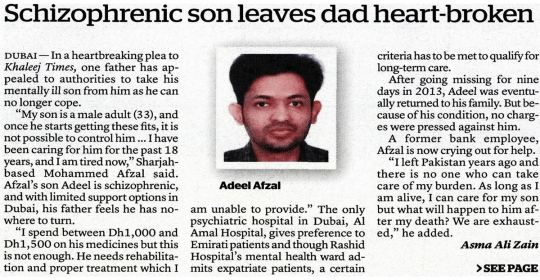 Khaleej Times | DUBAI | Asma Ali Zain | 16.10.2016 | In a heartbreaking plea to Khaleej Times, one father has appealed to authorities to take his mentally ill son from him as he can no longer cope.
In the chilly winter of December 2013, when the then 30-year-old Adeel Afzal disappeared from his home in Sharjah, it took nine days to locate him. When he was finally found on the streets of Dubai, Adeel was taken back to his family house in Sharjah, but the police did not press any charges against him because he is schizophrenic.
Today, his father, Pakistani national Muhammad Afzal, has appealed to authorities to take his mentally ill adult son in because he can no longer care for him.
"My son is a young male adult (33), and once he starts getting these fits, it is not possible to control him … I am growing too old for that. I have been caring for him for the past 18 years, and I am tired now," said Afzal while speaking to Khaleej Times after he sent an e-mail asking for intervention.
Dr Willem Vrolijk, psychiatrist at German Neuroscience Centre, agreed that the situation can be a big shock for the patient's family.
"It's a big shock when a loved one has the mentioned symptoms. It leads to confusion, anger, denial sadness, despair and great concern,"
"The patient always needs treatment but admission to a psychiatric hospital, or the psychiatric ward o f a general hospital depends on the symptoms, especially when hallucinations or delusions lead to dangerous situations, for the patient or others." He said that hallucinations and delusions are treated with medication. "Antipsychotics usually work well and hallucinations and delusions disappear." However, the cost of caring varies. "There is a big variety in costs. I f admission to a clinic is needed, of course the costs will be much higher than when the patient is doing good on medication and functions well in society," he added
The original article was published in Khaleej Times by Asma Ali Zain
Dr. Vrolijk is a Psychiatrist as well as a Psychotherapist. He completed his Medical Study in the Netherlands at the University of Leiden and is a Dutch Board Certified Adult Psychiatrist, as well as a Child-/Adolescent Psychiatrist. He has long standing experience in psychotherapy as well as in the medical treatment of psychiatric disorders.