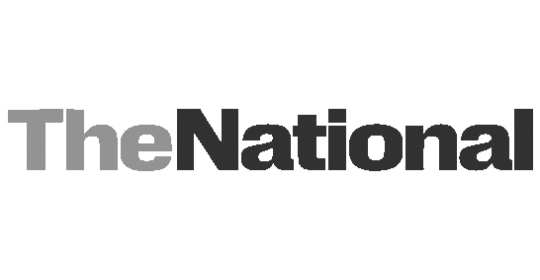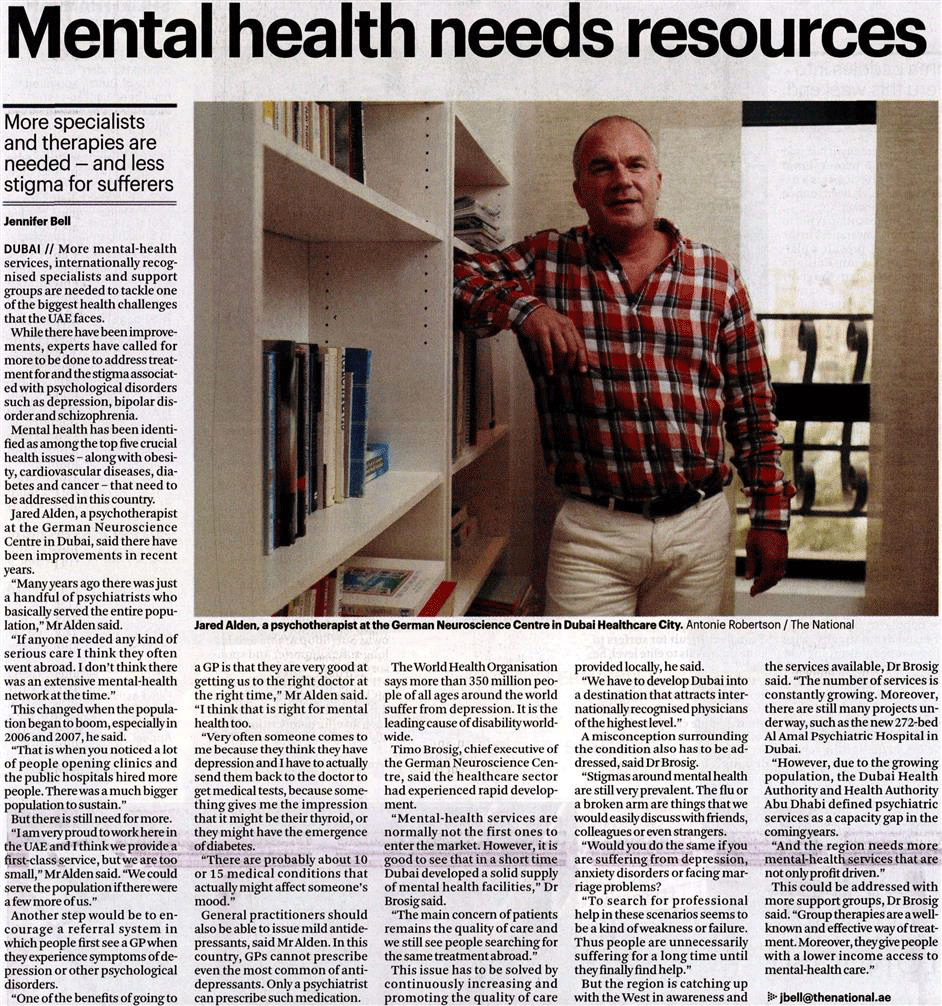 Schizophrenia in Dubai – The National featuring the German Neuroscience Center Dubai.
DUBAI // More mental-health services, internationally recognised specialists and support groups are needed to tackle one of the biggest health challenges that the UAE faces.
While there have been improvements, experts have called for more to be done to address treatment for and the stigma associated with psychological disorders such as depression, bipolar disorder and schizophrenia.
Mental health has been identified as among the top five crucial health issues – along with obesity, cardiovascular diseases, diabetes and cancer – that need to be addressed in this country.
Jared Alden, a psychotherapist at the German Neuroscience Centre in Dubai, said there have been improvements in recent years.
"Many years ago there was just a handful of psychiatrists who basically served the entire population," Mr Alden said.
"If anyone needed any kind of serious care I think they often went abroad. I don't think there was an extensive mental-health network at the time."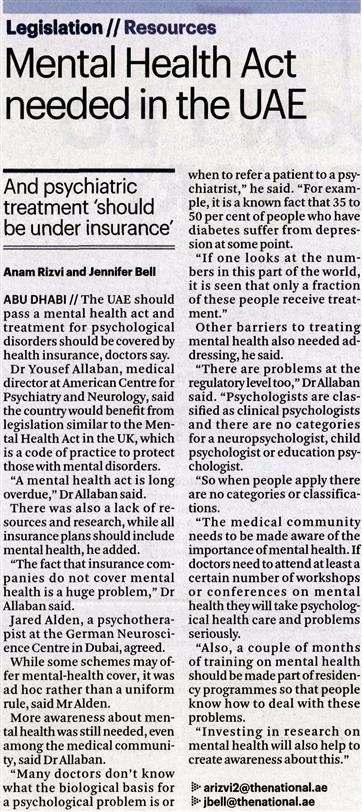 This changed when the population began to boom, especially in 2006 and 2007, he said.
"That is when you noticed a lot of people opening clinics and the public hospitals hired more people. There was a much bigger population to sustain."
But there is still need for more.
"I am very proud to work here in the UAE and I think we provide a first-class service, but we are too small," Mr Alden said. "We could serve the population if there were a few more of us."
Another step would be to encourage a referral system in which people first see a GP when they experience symptoms of depression or other psychological disorders.
"One of the benefits of going to a GP is that they are very good at getting us to the right doctor at the right time," Mr Alden said. "I think that is right for mental health too.
"Very often someone comes to me because they think they have depression and I have to actually send them back to the doctor to get medical tests, because something gives me the impression that it might be their thyroid, or they might have the emergence of diabetes.
"There are probably about 10 or 15 medical conditions that actually might affect someone's mood."
General practitioners should also be able to issue mild antidepressants, said Mr Alden. In this country, GPs cannot prescribe even the most common of antidepressants. Only a psychiatrist can prescribe such medication.
The World Health Organisation says more than 350 million people of all ages around the world suffer from depression. It is the leading cause of disability worldwide.
The Chief executive of the German Neuroscience Centre, said the healthcare sector had experienced rapid development.
"Mental-health services are normally not the first ones to enter the market. However, it is good to see that in a short time Dubai developed a solid supply of mental health facilities," he said.
"The main concern of patients remains the quality of care and we still see people searching for the same treatment abroad."
This issue has to be solved by continuously increasing and promoting the quality of care provided locally, he said.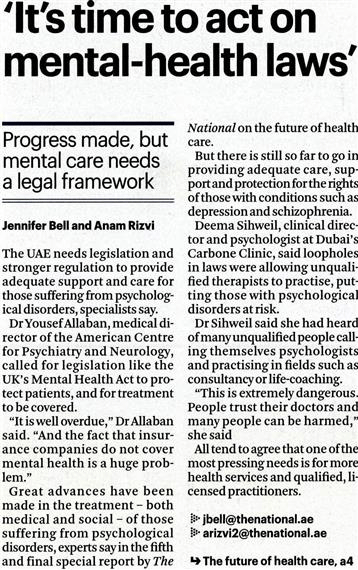 "We have to develop Dubai into a destination that attracts internationally recognised physicians of the highest level."
A misconception surrounding the condition also has to be addressed, said the doctor.
"Stigmas around mental health are still very prevalent. The flu or a broken arm are things that we would easily discuss with friends, colleagues or even strangers.
"Would you do the same if you are suffering from depression, anxiety disorders or facing marriage problems?
"To search for professional help in these scenarios seems to be a kind of weakness or failure. Thus people are unnecessarily suffering for a long time until they finally find help."
But the region is catching up with the West in awareness and the services available, he said. "The number of services is constantly growing. Moreover, there are still many projects under way, such as the new 272-bed Al Amal Psychiatric Hospital in Dubai.
"However, due to the growing population, the Dubai Health Authority and Health Authority Abu Dhabi defined psychiatric services as a capacity gap in the coming years.
"And the region needs more mental-health services that are not only profit driven."
This could be addressed with more support groups, he said. "Group therapies are a well-known and effective way of treatment. Moreover, they give people with a lower income access to mental-health care."