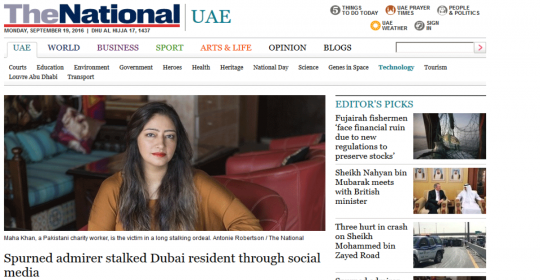 The National | Nick Webster | September 18, 2016
Checking her Facebook feed put a woman at risk after a spurned admirer tracked her social media posts and began stalking her in Dubai. English teacher Maha Khan, 40, met the man 24 years ago in Abu Dhabi.
Turning down the Pakistani man's romantic advances started a chain of events that led to a warning from police for the unidentified man in Dubai years later.
"I had just started my university studies when a friend said he knew someone who had been admiring me for a couple of years," Ms Khan said.
When she discovered the man was older and could not speak Urdu or English, she said she was not interested. She changed her phone number but the man kept calling, offering her gifts.
One night he called and told her to look out of the window of her flat overlooking the Abu Dhabi Corniche. "He said he was going to jump into the sea to kill himself if I didn't come down," she said. "I didn't know what to do, so I hung up. That was the last I heard from him."
[…]
Fadwa Lkorchy, a psychologist and counsellor at the German Neuroscience Centre in Dubai, said technology had made stalking more common.
"When I do couple therapy, I see a lot of the use of technology to watch an ex-partner's movements," she said. "This kind of behaviour can cause extreme anxiety for a victim.
"There can be long-term damage. It makes people feel vulnerable when they realise how accessible they are."
The article was shortened. Full article originally published here
Psychologist & Developmental Psychologist Personality Dimensions Trainer Neuro-linguistic programming (NLP) coach Licensed hypnosis therapist Professional trainer Member of the American Psychological Association Member of the Arab Psychological Association Fadwa Lkorchy is an American board certified psychologist living and working in Dubai.