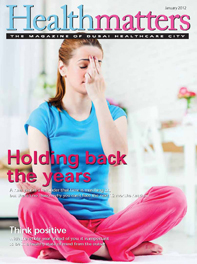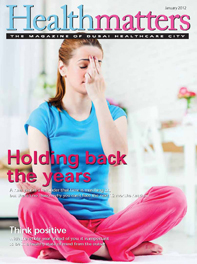 Think positive: With the whole year ahead of you, it is important to be in a healthy state of mind from the outset
A new year brings with it new opportunities, and a sense of a fresh start. This can be a blessing for those of us who found 2011 a bit of a slog – both physically and, more probably, mentally. After all, there have been few years in recent memory that have entailed as many potential causes of stress for people around the globe. But starting the year in the right frame of mind does not have to involve a raft of new year's resolutions that will inevitably be broken. In fact, argues Dr Muhammad S Tahir, problems with the mind need to be appreciated for the complex and difficult phenomena that they are. "Modern day life's stresses can impact us to varying degrees to the point it can cloud realistic thinking," he explains.
"When under stress people think negatively and feel anxious about unnecessary worries." This, of course, is nothing new – and in many ways it is natural. But when the January blues don't shift, it is time to seek some professional advice, argues Tahir. "Usually, when stress is over, these negative feelings are replaced with our usual self, which has a realistic and optimistic thinking approach," he says. "However, in certain vulnerable cases where stress is severe or prolonged with multiple negative life events this may not happen and it can lead to continuous negative thinking which can affect emotional well being, affect behavior and can lead to further deterioration in work performance.
" It follows that if one has a negative view of themselves, then they will tend to have a negative view of the world around them, and, subsequently a negative view of the future – which perhaps explains why the start of any year can be a tricky time for mental health. But there are options available to those who are feeling down, explains Tahir. For instance, there is cognitive behavior therapy (CBT). "CBT is based on this negative thinking process and helps to replace it with positive thinking and can result in the improvement in feeling, emotions and performance," he explains. "Following exercise may be helpful in this regard. Whenever there is situation which leads to negative thinking and gives rise to the sadness or anxious emotions and leads to the automatic negative thoughts (pessimistic thoughts). If at that time our family and culture as well," he points out. "In a sense we are joining in with their history of thoughts and actions. This brings up an important point. You can't wait to feel differently before you do differently. This can be the thing that stops our resolutions before we hit February we expect to be motivated and feel like exercising before we actually do it. This is not how humans change. It always starts with thoughts-actions-emotions."
In 2004 Alden trained for the 2005 New York marathon. "If it was possible to come in last I think I did. Even the man in the chicken suit beat me. Anyway, I did not like running that much but I kept at it and repeated the thought, 'I will try for 10 minutes and then see'." Alden believes that it was that 'one thought / one foot after another' technique that got him round the course. "It took me 6 hours but believe me it transformed my emotions.
I was so happy and so proud of myself." Alden says it is important to remember that, as complex as your problems might feel, they are challenges that we all face at various points in our lives. "Don't mystify your emotions and imagine that you, out of all 7 billion of us, are a different kind of human," he says. "Keep it simple. Start with a balanced, realistic and at least slightly positive thought that you can turn into a small but measurable action. After a couple of these then see what your emotions are doing. "Some of us have a large bank of emotions that are not helpful towards the change we would like to make. If this is you then realize that one thought is not going to change years of the opposite thought, one action is not going to change years of even generations of inaction. Give yourself a fair chance and keep going, you like every other person on earth, will be transformed by a simple equation of thought-action-emotion."
German Neuroscience Center
Bldg. No. 64, Block A
2nd floor, 2006
Tel: 04 4298578
www.gnc-dubai.com