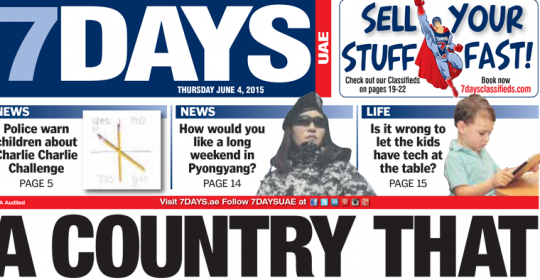 7Days, 04.06.2015: AFTER Desiree Vlekken lost her father to Alzheimer's disease, she founded 4-get-me-not, the UAE's first online information and support platform for people dealing with the disease. In collaboration with the German Neuroscience Centre, they are organising the 'Spin & Drive for Brain Health' tomorrow, the first table tennis tournament to raise awareness of Alzheimer's in the UAE. "According to a growing body of research, bouncing that little white ball back and forth does more than just get your blood pumping. It may also help to keep Alzheimer's at bay,"
Vlekken told 7DAYS. She added that ping pong is also used in sports therapy sessions for Alzheimer's patients worldwide: "Table tennis is a fantastic low to medium-impact exercise that requires the brain to be constantly engaged – calculating the opponent's next move and keeping a watchful eye on the ball, which also requires spatial awareness, hand- eye coordination and peripheral vision." Players of all ages are invited to take part in the tournament at the Novo Cineplex Cinema, Grand Hyatt Dubai, 10am-7pm to help raise awareness and for a chance to win fantastic prizes. It's followed by a screening of the 2012 documentary film 'Ping Pong Never Too Old for Gold', which follows a group of eight pensioners from around the world as they train to compete in the over-80s table tennis championships in Inner Mongolia.
Alzheimer's is the most common form of dementia and a neurological disorder, which causes deterioration of memory, loss of concentration and diminished judgment. It is a global health concern most commonly associated with elderly people. Research revealed that boosting circulation through exercise may help to slow cognitive decline as well as reduce the risk of Alzheimer's.