Nilanjana Gupta (Senior Web Journalist/Videographer) & Kymberlee Fernandes (Web Journalist) / 30 April 2015. According to a poll by Khaleej Times, more than 70 per cent of the respondents said children hardly interact with their parents because of their cell phone addiction.
Are cell phones stealing away your kids?
Snapchat, Whatsapp, Instagram, Facebook, Twitter, and the likes you can do, all from a device in your palm. In between all the texts and video chats, have the youth using this so called new-age technology forgotten how to live in the real world? Most parents encounter this situation when it comes to communicating with their kids.  Every now and then, teenagers whip out their smartphones as the parents still gab, clearly showing disinterest in the conversation. Usually this would be just annoying, but as children continue to get carried away into their virtual world, it could actually become a deal breaker. According to a poll by Khaleej Times, more than 70 per cent of the respondents said children hardly interact with their parents because of their cell phone addiction. 22 per cent of the respondents however blamed the parents for using cell phones and burning bridges with their kids. You've probably had a feeling that was the case all along anyway, but now we have a bit of scientific evidence to support those feelings. A new study by UCLA scientists suggested that students kept from using screen-based technology for five days showed improvement in recognizing emotion. After just days without using any digital media, researchers said they saw a huge improvement in the youth's ability to recognize emotions. The same improvement was not observed for the other group that continued to use screen-based technology.
Parents and children in UAE speak about their addiction to technology
Children defend technology
While kids in the UAE defend their use of digital media with reasons such as homework and research, parents don't seem to be paying attention to how technology is taking their kids away from them. Khaleej Times spoke with kids between the ages of 11 and 17 to find out what really is keeping them so busy on all these addictive devices. Pritika, 11, says:  "I spend a lot of my time on different electronic devices. I think they are very helpful, especially the phones as I can always stay in touch with my mom, my friends, and they can also know what I'm up to." Suroosh Shirazi, 17, left, says: "I use my phone for Whatsapp and Snapchat. I use my computer to check Facebook and play games. Although I spend about four to five hours a day on technology, it doesn't stop me from getting out and doing things. I still exercise." On the flipside Abdallah Dikko, 11, right, says: "I got my first phone when I was nine. It was a BlackBerry. I use it mainly to make phone calls, send texts and surf the internet sometime. I use the tablet to browse the internet more often, and play games.  I prefer playing on the tab instead of outside on a field because it's too hot in Dubai." Similarly Sina Shirazi, 17, left, says: "I pretty much use gadgets the whole day. Even if it's not connected to the internet, I still listen to music. For most part I watch random videos. Technology is good, but I think it leads to procrastination. My parents used to be annoyed when I was on my phone, but now they're just used to it." But phones aren't limited to texts and games, the UAE schools also promote the use of gadgets. Prinita Garg, 13, right, says: "We have to do homework, watch TV, and then we have our phones too. I use my laptop the most, especially for homework and research. But I do go out with friends to the park and also play sports." Equipped with her laptop in one hand and a phone in the other, Sarah Saccoor, 14, left, says: "I use my computer a lot, mostly for research and entertainment. Our school has a rule BYOD which means Bring Your Own Device and that really implements the use of technology."
Parents face dilemma
Most parents in UAE say their children prefer to avoid face-to-face interaction and hence their social skills at home are deeply impaired.  "They do use a lot of phones and iPods and it's not very healthy for them. It's very hard to keep them away from it but it's a lot of peer pressure from their friends. It's very difficult to do that. It's very difficult for us to have a normal conversation over dinner," says, Mohammed Al Hassan, left, father of three children. Ana, mother of two kids, right, also says, "My daughters have iPhones and usually when they return from school, they get glued to their phone. We need to tell them 'no' because otherwise we can't communicate at home." Other parents in UAE stress the benefits of technology but at the same time they say it can do more harm than good. "Cell phones make communication easy with our kids so we know what they are up to; what they do in school; and what time they need to be picked up. We must be careful though – as sometimes they use cell phones for wrong things – like video, chats etc.," says, Eti, mother of three children, left. Sheena, mother of one, says "It's a bad influence for kids. Studies get disturbed because of cell phones – social media, Facebook and so on." However Ionela, who has a teenaged daughter, says "We as parents use a lot of devices. Our kids only emulate us." Gilan, a corporate trainer, right, says, "Kids don't think their parents are on the same page as them. So that's why they try to find other people in their virtual life – friends of same age or different nationalities. They don't think they can open up to their parents every time. In the virtual world there are no rules, no limits."
Technology deeper than devices
"Technology which initially was approved as favourable for educational purposes, now has turned into a mixed blessing," says Dr Muhammad Tahir, left, Child & Adolescent and Adult Psychiatrist, Dubai Healthcare City. Children spend a lot of time on electronic devices, not leaving enough time for parents, siblings and other social activities, which are very helpful for normal growing and functioning in the society, says Dr Tahir. He adds, along with physical development children also grow mentally to attain social skills, learn relationship skills and learned empathic attitudes and these can be affected by less human interaction due to lack of availability. Mentally, excessive exposure to technology can cause rapid mood fluctuations.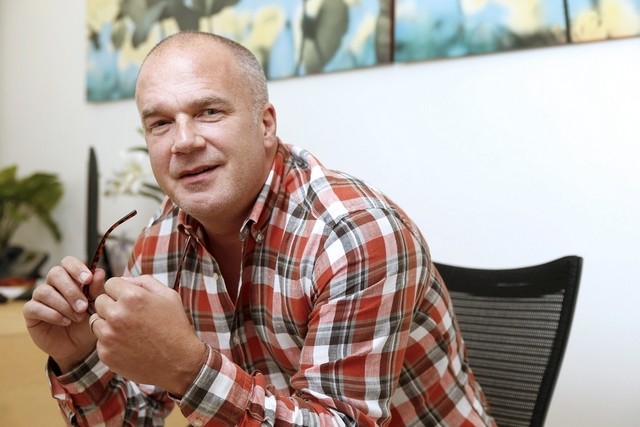 Jared Alden, Counsellor Psychologist, German Neuroscience Center says: "The biggest impact technology has on the young is how little sleep they are getting. Technology is such a distraction that there is always a reason to put off going to bed. Science is also investigating the kind of light that is emitted from computers and phones. The spectrum of light emitted from these devices falls into the blue spectrum. There is concern this can keep people awake and disrupt the natural circadian rhythms of the body." Because children are so distracted by technology they may not learn proper social skills. "I am not talking about being polite I am talking about how to negotiate with their peers in an emotional way. How to handle anger and sadness and basic conflict with children their own age", adds Dr Alden.
How can parents help?
"The main way to do this is for the adults to put their phones down first", says Dr Alden. He suggests, set the example by sitting for meals together and having phones away from the table. Dr Tahir adds: "By setting time slots to use electronic media and may be by linking it to completing other school and home obligations, parents can use media to their advantage. This way parents can also curb their children from falling into traps of cyber bullies."