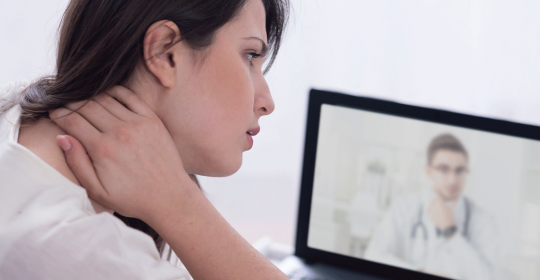 The article was originally published by Khaleej Times | Nivriti Butalia | 15, 2016 | this version is shortened | read full article
What do you do if you live away from the city, and you need to see a therapist regularly? It could be for any issue troubling you. You might need to see a therapist for marriage counselling, anxiety issues, depression, bi-polar disorder or any of the nearly 200 diagnosis that falls under mental health. Do you drive all the way out to Abu Dhabi or Dubai twice/thrice a week to see a mental health counsellor, and pay anything from Dh600 upwards for a session? Or do you not seek help at all – not a smart call, needless to say. What happens to people who can't afford the high cost of mental healthcare but want professional help?
Online counselling (or telecounselling, or distance counselling for mental health) is when you can set up an appointment online on a video link – like Skype or Facetime – for non-emergency cases. This wouldn't work for a person contemplating suicide who will need immediate, physical intervention. Online counselling applies for non-emergency cases – depression, bipolarity, phobias, anxiety, etc.
Virtually non-existent in the UAE, telecounselling (different from telemedicine, which exists in the UAE; but conceptually similar) is a means to offer clients help in their homes, at their convenience, and crucially, at a more affordable price. There are, of course, red flags to watch out for – such as the certification of the counsellor. Clients should ask for the credentials of their counsellors to feel assured that they're getting professional help from properly trained people.
UAE law on telemedicine
According to the definition in the 'Health Authority of Abu Dhabi (HAAD) Standards for Tele-consultation in the Emirate of Abu Dhabi', mental health is specifically excluded from tele-consultation. Citation: "Telemedicine excludes all services involving invasive clinical interventions; prescribing of medications including prescribing the use of narcotics and controlled medications for treatment (eg. mental health or other disorders that require the use of controlled drugs)."
But Rachna Buxani, a licensed mental health counsellor in the United States (Miami, FL) says: "The laws governing telecounselling here in the UAE are unclear."
On a visit to Dubai, Buxani, who still considers the city home as she grew up here, talks about the need for distance counselling for mental health in the UAE. She worked in Dubai as a counsellor and has dealt with hundreds of mental health cases in children.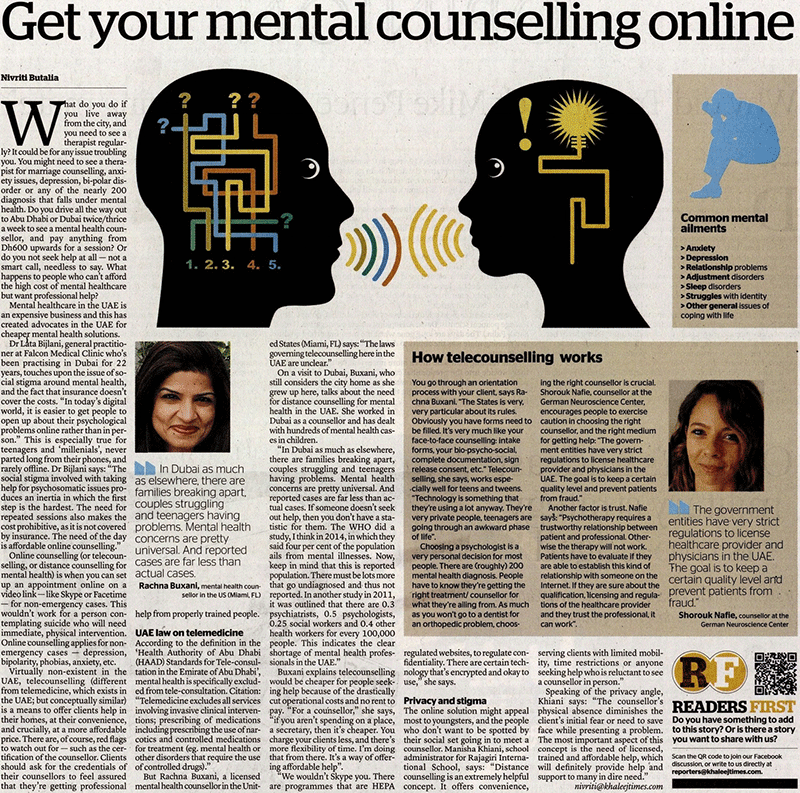 "In Dubai as much as elsewhere, there are families breaking apart, couples struggling and teenagers having problems. Mental health concerns are pretty universal. And reported cases are far less than actual cases. If someone doesn't seek out help, then you don't have a statistic for them. The WHO did a study, I think in 2014, in which they said four per cent of the population ails from mental illnesses. Now, keep in mind that this is reported population. There must be lots more that go undiagnosed and thus not reported. In another study in 2011, it was outlined that there are 0.3 psychiatrists, 0.5 psychologists, 0.25 social workers and 0.4 other health workers for every 100,000 people. This indicates the clear shortage of mental health professionals in the UAE."
Choosing a psychologist is a very personal decision for most people. There are (roughly) 200 mental health diagnosis. People have to know they're getting the right treatment/ counsellor for what they're ailing from. As much as you won't go to a dentist for an orthopedic problem, choosing the right counsellor is crucial. Shorouk Nafie, counsellor at the German Neuroscience Center, encourages people to exercise caution in choosing the right counsellor, and the right medium for getting help: "The government entities have very strict regulations to license healthcare provider and physicians in the UAE. The goal is to keep a certain quality level and prevent patients from fraud."
Another factor is trust. Nafie says: "Psychotherapy requires a trustworthy relationship between patient and professional. Otherwise the therapy will not work. Patients have to evaluate if they are able to establish this kind of relationship with someone on the Internet. If they are sure about the qualification, licensing and regulations of the healthcare provider and they trust the professional, it can work".
Shorouk is a UK board certified counsellor and a member of the British Association for Counselling and Psychotherapy (BACP). She completed her education at the New School of Psychotherapy and Counselling in London and is currently a Doctoral Candidate with the same school. Moreover, she is an instructor at Zayed University in Dubai.
The article was originally published by Khaleej Times | Nivriti Butalia | 15, 2016 | this version is shortened | read full article