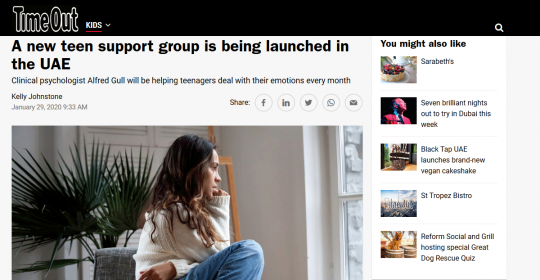 If your teens have angst, there is new support group in the UAE that they can sign up to in order to help them deal with their emotions. Clinical psychologist Alfred Gull will be helping teenagers deal with their emotions every month
The first of the monthly sessions – which are all overseen by clinical psychologist Alfred Gull who has 30 years' experience and is specialised in helping children and adolescents – is taking place on Sunday February 2 in Dubai.
The hour-long support group is being hosted by the German Neuroscience Center from 8pm to 9pm, at their clinic in Jumeirah Lakes Towers.
The group is free for teenagers to attend and promises to give them the opportunity to discuss any issues they may be facing and learn strategies to deal with their emotions in a confidential environment.
Gull explains that support groups can be incredibly valuable for people who would benefit from sharing their feelings with others in a similar situation.
"This is especially true for adolescents who often feel isolated and misunderstood. They feel under pressure and out of control for a number of reasons and lack the self-confidence to put their experiences into perspective," he says.
Gull adds that: "opening up and expressing themselves as things progress can help to prevent a crisis situation from occurring, as well as reducing the risk of mental health problems later on in adulthood."
Help them, help themselves deal with all the changes. They are not alone.
Free. Sun Feb 2, 8pm-9pm. German Neuroscience Center, Cluster I, Jumeirah Lakes Towers, mail@gnc-dubai.com (04 4298 578).
Here are some pretty daunting facts on mental health in young people:
• 1 in 10 children and young people aged five to 16 suffer from a diagnosable mental health disorder.
• The number of young people aged 15 to 16 with depression nearly doubled between the 1980s and the 2000s.
• Nearly 80,000 children and young people suffer from severe depression.
• More than half of all adults with mental health problems were diagnosed in childhood.
The full  original article was published in TimeOut Dubai