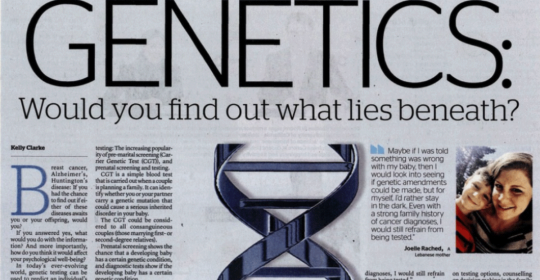 The article was originally published by Khaleej Times | Kelly Clarke | July 31, 2016
In today's ever-evolving world, genetic testing can be used to predict an individual's risk to different types of disease. Breast cancer, Alzheimer's, Huntington's disease: If you had the chance to find out if either of these diseases awaits you or your offspring, would you?
If you answered yes, what would you do with the information? And more importantly, how do you think it would affect your psychological well-being?
It has the potential to play an important role in both the prevention and treatment of disease. But the anxiety caused by mis-testing or an unexpected positive result can play havoc with a person's psychological well-being if the right support system is not in place.
With a severe shortage of genetic counsellors here – in fact, only two certified genetic counsellors in the UAE – it is vital the public is educated on the benefits and drawbacks of learning this type of information.
And it begs the question: Is too much information bad for your health?
The article was originally published by Khaleej Times | Kelly Clarke | July 31, 2016 | Read the full article here