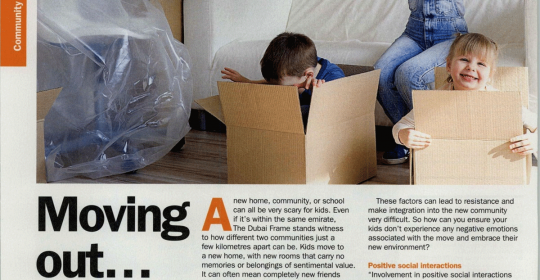 Relocating to a new community isn't always plain sailing. Here's how you can make the transition to a new place you'll call home as easily and smoothly as possible.
A new home, community, or school can all be very scary for kids. Even if it's within the same emirate, The Dubai Frame stands witness to how different two communities just a few kilometers apart can be. Kids move to a new home, with new rooms that carry no memories or belongings of sentimental value. It can often mean completely new friends or a new school, which defamiliarizes the notion of home sweet home. "A change of surroundings can lead to various emotions in kids: anxiety over the unfamiliarity of the new 'strange' environment, sadness about the loss of the old home and friends, feelings of loneliness, and anger towards parents and the new environment," says Dr Fabian Saarloos, clinical and health psychologist at the German Neuroscience Center in Dubai.
These factors can lead to resistance and make integration into the new community very difficult. So how can you ensure your kids don't experience any negative emotions associated with the move and embrace their new environment?
Positive social interactions
"Involvement in positive social interactions through play dates or community activities is very important," adds Dr Saarloos. "A community's social cohesion is crucial, so find out if there are more families with kids who may be able to support yours."
Consider the safety and kid-friendly aspects of your new community, too. Dubai is a busy city, so areas where there are parks, playgrounds and facilities including nurseries, schools and health centres are ideal.
New school
A new community often means a new school. So how can your kids adjust faster? "It's difficult for expat kids here, particularly non-English-speaking children, to integrate into their new school and make friends," explains Dr Saarloos. "If other students live in the area, come from the same background and speak their language, it'll be easier for them to connect and keep up at school."
The psychologist recommends that when choosing a school, you consider the institution's philosophy and how it matches your idea of a good education or your country of origin's curriculum. "Also, consider how diverse the school is," Dr Saarloos adds. "The more diverse it is, the more kids will be exposed to other cultures and learn from each other."
You should also evaluate the extra-curricular activities on offer at the school, in addition to language development programmes and classes, since this is a very important aspect of child development. This is especially relevant if your kids are still learning English, which is the prevalent language of instruction in UAE schools. Similarly, you need to ensure that kids are still practicing their own language.
Art imitates life
Dr Saarloos says that parents could also watch kids' movies that illustrate the consequences of a big move on children. A good example is record-breaking Pixar animation Inside Out, which follows the psychological implications of a young girl's move to another home. Such movies can give parents a deeper insight into what really goes on in kids' minds during this kind of upheaval.
"Inside Out really quite accurately reflects how the brain produces sadness in order to mourn the loss of the old environment, while at the same time cognitively changing the representation of what has been lost into memory," Dr Saarloos explains.
Loving their new home
"You should listen to and analyse your kids' expectations, and constantly highlight the new environment's advantages. When it comes to the home, try to integrate elements of your home country including traditions, food, furniture and more," Dr Saarloos says. In order to love their new home, kids need to feel safe and in control of their environment, and receive positive re-enforcement. The more friends and pleasurable activities the new environment offers, the more they'll feel at ease and stimulated by their surroundings to interact, and thus integrate much faster.
The article was originally published by Time Out Dubai,