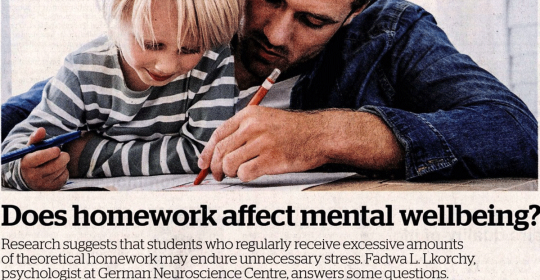 Khaleej Times | Kelly Clarke | Dubai | Oct 9, 2016
Research suggests that students who regularly receive excessive amounts of theoretical homework may endure unnecessary stress. Fadwa L. Lkorchy, psychologist at German Neuroscience Centre, answers some questions.
How can excess homework affect a child's psychological well-being?
Excess homework deprives the child of free play, outdoor activities and exercise. Focused and structured homework suppresses their creativity. It is more likely to cause stress, decrease in energy, and hinder imagination. Depending on how rigorous the homework is and the time spent to finish it, it may affect self-esteem, cause conflict with parents, and reduce importance of other developmental needs such as physical strength and social interactions.
What work-related issues can stem from excess homework task-planning for teachers?
The higher the number of children in the class, the more likely the teacher will be overwhelmed by the number of projects. It will affect quality of the teacher's performance and importance of interaction with students. It is not only important to deliver information, but more important to find different ways of making the child learn.
Do you often treat children or teachers for school related stresses?
I often treat children, but not so many teachers. However, the system does not provide much flexibility for teachers as it may do for the student. The more expensive schools are more equipped to work with me as they have less student/teacher ratio, better qualified teachers with support and professional development opportunities.
What common symptoms arise from overburden of homework?
Mostly behavioural issues such as bullying, aggressiveness, sleepiness in class, and low academic grades. They may also suffer from social isolation, low self-esteem, rebellion, depression, anxiety, and in the extreme suicidal idealisation, cutting, and behavioural misconduct.
The article was originally published here: Khaleej Times | Kelly Clarke | Dubai | Oct 9, 2016
Psychologist & Developmental Psychologist Personality Dimensions Trainer Neuro-linguistic programming (NLP) coach Licensed hypnosis therapist Professional trainer Member of the American Psychological Association Member of the Arab Psychological Association Fadwa Lkorchy is an American board certified psychologist living and working in Dubai.