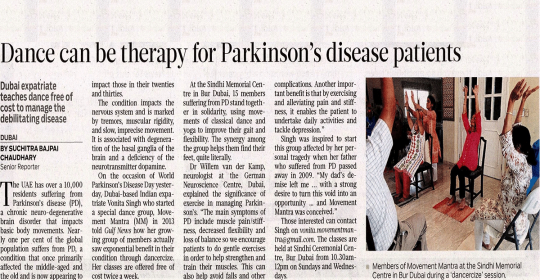 Gulf News | Suchitra Bajpai Chaudhary | April 11, 2017
Dubai expatriate teaches dance free-of-cost as therapy to manage the disease
Dubai: The UAE has over a 10,000 residents suffering from Parkinson's disease (PD), a chronic neuro-degenerative brain disorder that impacts basic body movements. Nearly one per cent of the global population suffers from PD, a condition that once primarily affected the middle-aged and the old and is now appearing to impact those in their twenties and thirties.
The condition impacts the nervous system and is marked by tremors, muscular rigidity, and slow, imprecise movement. It is associated with degeneration of the basal ganglia of the brain and a deficiency of the neurotransmitter dopamine.
On the occasion of World Parkinson's Disease Day on Tuesday, Dubai-based Indian expatriate Vonita Singh who started a special dance group, Movement Mantra (MM), in 2013 told Gulf News how her growing group of members actually saw exponential benefit in their condition through dancercize. Her classes are offered free of cost twice a week.
At the Sindhi Ceremonial Centre in Bur Dubai, 15 members suffering from PD stand together in solidarity, using movements of classical dance and yoga to improve their gait and flexibility. The synergy among the group helps them find their feet, quite literally.
Dr Willem van der Kamp, neurologist at the German Neuroscience Centre, Dubai, explained the significance of exercise in managing Parkinson's. "The main symptoms of PD include muscle pain/stiffness, decreased flexibility and loss of balance so we encourage patients to do gentle exercises in order to help strengthen and train their muscles. This can also help avoid falls and other complications. Another important benefit is that by exercising and alleviating pain and stiffness, it enables the patient to undertake daily activities and tackle depression."
Singh was inspired to start this group affected by her personal tragedy when her father who suffered from PD passed away in 2009. "My dad's demise left me … with a strong desire to turn this void into an opportunity … and Movement Mantra was conceived."
Those interested can contact Singh on vonita.movementmantra@gmail.com. The classes are held at Sindhi Ceremonial Centre, Bur Dubai from 10.30am-12pm on Sundays and Wednesdays
The article was originally published in Gulf News. Read full article here
In Parkinson's disease, certain nerve cells (neurons) in the brain gradually break down or die. These certain nerve cells are responsible for the design, the development and the realization of movements. The loss of neurons results in a decreased dopamine level in the brain. Dopamine is a chemical messenger between nerve cells.