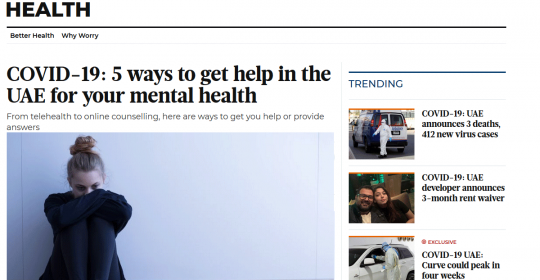 As the coronavirus outbreak continues to destabilise people's familiar way of living around the world, mental health and psychological well-being becomes more and more vulnerable. Many initiatives have been set up in the UAE to help you cope with any internal struggles you are having as a result of the COVID-19, in addition to those whose pre-existing mental conditions have been exacerbated by the pandemic.
We take a look at some of the ways you can reach out and get help, as well as the informational initiatives that have been set up to answer some of your general questions about how to deal with changes to your psychological well-being. […]
Book a telehealth or video appointment with a psychologist at these clinics
Several hospitals and mental health clinics are now offering the option to set up a secure video appointment with psychologists and psychiatrists.
Gulf News called two clinics and found that the process is fairly straightforward. Both require you to set up an appointment, either by phone or online, with one of their available doctors.
You will be registered in their system and you will then receive a secure payment link on the email you registered under
Once the payment is complete, your appointment is confirmed.
You will receive an invitation link to a video meeting, through applications such as Zoom (used by Camali Clinic) or Cisco Webex (used by German Neuroscience Centre).
Usually, the appointments will last between 50-60 minutes, but follow-ups can be shorter.
Your prescription, should it be needed, will also be created electronically. They will require a copy of your ID, or your passport, and the original ID document will be needed to pick up your prescription from the pharmacy, or to have it delivered if that is an option. […]
The full and original article was published in Gulf News