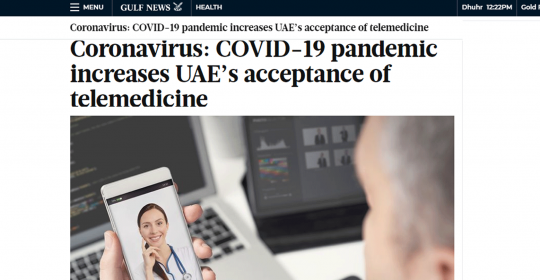 Long viewed as a viable possibility, telemedicine has now become an active reality in the UAE as the country works to limit its coronavirus outbreak. From large medical providers to individual hospitals and pharmacies, health facilities across the country have enabled systems that allow residents to consult doctors and pharmacists from their homes. More importantly, these consults are mostly covered by insurance providers, thus making telemedicine an affordable and convenient option as residents avoid going out. […]
Patient testimonials
While regular telemedicine consultations have come as a boon for all, mental health patients are especially relieved at being able to continue therapy in the privacy of their own homes.
"I have been consulting them from the start of the year for help with my anxiety disorder. I suffer from high-level anxiety, which affects me day to day and causes relationship issues," said a 29-year-old male patient in Dubai who works in real estate. He consults experts at the German Neuroscience Centre.
"As the social distancing regulations started to get stricter, I really didn't want to stop the sessions because they were helping me to regain control over my anxiety. While I was open to the idea of virtual counselling because I had seen how online meetings were being used to overcome the challenges of social distancing at work, I was still a bit sceptical about how well it would work for something as personal this. Since staring my online sessions however, I no longer have any doubts and I have found them to be very effective; I am still getting the same level of support and I am so glad the clinic is able to provide it," he said.
"Moving forward, even after the current rules change, I think that having the online option would encourage more people to seek help for mental health issues as it can seem like an easier first step to take in asking for help," he added.
"As healthcare providers, it is vital that we can maintain the continuum of care for patients and ensure they continue to get the support they need during times like these. It is incredibly stressful for a patient to feel that their sessions could be interrupted and it can definitely have a negative impact on their condition. We have seen a great response from patients who feel that the virtual consultations are working well, and we are also now running our regular support groups online," said Alfred Gull, clinical psychologist at the German Neuroscience Centre.
The Centre earlier this week held its first online support group for teenagers, and found that the number of virtual attendees was even higher than at regular face-to-face groups.
"This could be due to the added pressures people are facing at the moment, but I also think that the virtual setting helps to make mental health support even more accessible in many ways. There is no reason why people can't get the same high-quality experience and we are even able to practice some of the most effective interactive therapy techniques online, such as Eye Movement Desensitization and Reprocessing," Gull said.
The original and full article was published in Gulf News