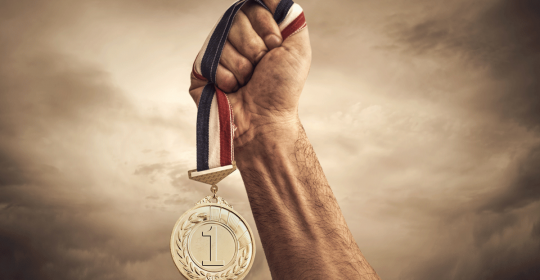 Talent identification and talent optimization are important topics in the world of sports, music and business. It has been proven that practice leads to better accomplishments and that, due to practice otherwise known as deliberate practice, actual changes occur in the brain. This fact has become known as the '10 year rule': training or practicing during the course of a period of 10 years cause a significant improvement in accomplishments and with that also changes in brain tissue. However, if all team members live and train in the same context i.e. each following the same amount of training time as well as the same eating pattern and each spend equal amounts of time sleeping, how is it possible that one member achieves a higher level of performance than the other?
How it possible is that one member achieves a higher level of performance than the other?
Talent is the explanation for why some achieve more than others (under the same learning conditions). Top-talents present with an extraordinarily high standard of cognitive skills, primarily in the areas of visual information processing speed and working-memory. Aside from these cognitive skills, the motivational profile of these top-talents is of equal importance. They have certain personality traits at their disposal which enable excellent achievements. In combining excellent cognitive skills with a specific motivational profile, the chances of success are increased.
How to identify talent?
Identifying and optimizing top-talent is a unique process in which clinical neuropsychology seems to be gaining a role of ever increasing importance.
To belong to the best in the world and to be able to compete with them, several ingredients can be extracted from the nature-nurture discussion which seem essential in predicting success. Although many hours of specific training focused on changing brain tissue are necessary to achieve a certain skill, it seems that intellectual, cognitive and congenital characteristics play an equally important part. Neuropsychological research demonstrates this point, using cognitive tests, questionnaires and semi-structured interviews. When people with certain skills (talent) are selected, a training programme should be carried out which will support optimal development of brain tissue, which in turn will optimize the functionality of the skill system being trained. With this in mind one should base ones conclusions on the principles of scientific literature on learning. A clinical talent identification and talent optimization neuropsychologist can be deployed when identifying and optimizing talent as well as composing a specific team culture and aligning different characters to form the most desirable combination for a top-class team.
How to optimize talent?
We used the above mentioned theoretical knowledge in West-Europe and they proved to be very effective. Since recently, these concepts are also implemented in the UAE:
• Various sports teams in West-Europe: soccer first teams and youth teams (Chelsea, Swansea, ADO Den Haag, PEC Zwolle, AZ Alkmaar, Anderlecht / Brussels), Dutch Olympic swimming team, Dutch Olympic basketball team, Swiss professional ice hockey team, Dutch professional ice skating team, international MMA / boxing competitors, BMX, golf and tennis): talent identification and optimisation on both individual and team level. After implementing the techniques, the players performed better at individual level and the teams ranked significantly higher.
• Various gifted talents in music: piano (Imola Music School) and harp: talent identification. The neuropsychological measurements turned out to have predictive value and identified who would reach world class level.
• Various high level business: engineering, education, law enforcement, etc.: talent identification and optimization. We were hired to identify the individuals with high potential and restructure their organizations to optimize the functioning on both individual and team level.